The Beauty of Classic Blackjack
Classic Blackjack has a certain style about it. In many ways, it takes you back to the roots of the game. Traditionally, blackjack was played with a single deck of cards, and the sole object of the game was to get as close to 21 as you could without going bust. There were no fancy extras, and no rule tweaks or side bets either. It was just you and the dealer – and you were facing off against one another!
Nowadays, when you play the classic version of the game online, this is exactly what you're emulating. It makes everything very simple, really. There aren't any unnecessary rule variations to understand, or any complex strategies to follow. You simply need to have a better hand than the dealer in order to take the win.
How are the Cards Valued?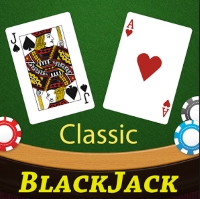 In blackjack, the number cards are assigned their face value. The tens and the face cards (kings, queens and jacks) all carry the value of ten. Aces can be either valued as eleven or one, depending on the hand. A hand that contains an ace and any card that counts as ten is known as 'blackjack'. This hand beats all others, so if you are dealt this, you'll automatically win. If both you and the dealer draw blackjacks, it's known as a push, and neither of you wins or loses anything.
Playing Classic Blackjack Online
The online version follows the same structure as the regular game. To begin the game, you and the dealer are dealt two cards each. Yours are both placed face up on the table. The dealer has one hand on show, but the other is kept hidden. This is called the hole card. If the dealer has an ace or a card that values ten on show, a peek is allowed. This is when the dealer looks to see if the hand is blackjack. If blackjack is declared at this point, all bets are lost.
You play your hand first. In the classic blackjack game, you have only two options open to you. You can stand, which is when you keep the cards in your hand. Alternatively, you can hit. If you choose this option, you'll be dealt one or more cards, until the point you decide to stand. If at any point you go over 21, it's known as bust, and you'll have lost your bet.
Top Online Casinos
.
888 Casino
5/5
Regulation: UKGC, GGC
Bonus: $1500
Min. Deposit: $10
Live Games: Yes
Mobile: Yes
Betfred
5/5
Regulation: UKGC, GGC
Bonus: £200
Min. Deposit: $10
Live Games: Yes
Mobile: Yes
Slotocash
5/5
Regulation: CGC
Bonus: 200%
Min. Deposit: $10
Live Games: No
Mobile: Yes
The Differences When Playing Online
There are some standard rules that apply to classic blackjack, but the online games tend to have a little more flexibility. For instance, although the game is traditionally played with one deck, many of the online variants use more. Let's go over some of the common rule variations that you might see while you're playing:
Soft 17. All casinos have rules for when the dealer stands or hits, and this is where you need to know about a soft hand. A hand is considered soft if it contains an ace, and hard if it doesn't. In the classic game of blackjack, the common rule tends to be that the dealer hits on a soft 16, but stands on a soft 17. Games in which the dealer can hit on a soft 17 have a higher house edge, so look for this when you're making your choice.
Natural Blackjack. This is when your two cards are an ace and a card valued as ten. Check the pay-out on this. It is usually 3-2 for a natural blackjack, and again, anything else can alter the house edge.
Surrender. This option allows you to throw in your hand without playing it. In order to do this, you forfeit half your bet, but if your hand is poor, that can sometimes be the best thing to do.
Splitting Pairs. When you receive two cards that are the same, you can split them into two separate hands. In this scenario, your bet is doubled, you'll be dealt two more cards, and you'll play each hand individually.
Insurance. This is a common rule variation. If the dealer's first card is an ace, you can take out insurance on the odds of the hand being blackjack. Once you've placed your side bet, the dealer peeks at the card in the hole, and declares whether or not the hand is blackjack.
Doubling – sometimes known as double down. In this situation, you can double your bet after you've been dealt your first two cards. After you've done this, you'll only receive one more card and your hand automatically stands.

Not all of these variants are in every classic blackjack game, but you will undoubtedly come across them at some point in time. As always, it's worth knowing how the changes to the rules affects the house edge, as this can have an impact on your overall winnings.

Most visited Online Casinos

.

888 Casino offers Poker, Sports Betting and Casino Games
Website: 888casino.comCountry: GibraltarRegulation: UKGC, GGC

Up to $1600

PC

SmartPhone

Mac

Windows

Linux

Android

SSL

Slotocash is respectable casino that offer huge variety of slots
Website: slotocash.imCountry: CuracaoRegulation: CGC

200%

PC

SmartPhone

Mac

Windows

Linux

Android

SSL

Which Casinos Feature Classic Blackjack Games?

You'll find classic versions of blackjack in most of the NetEnt casinos. NetEnt provide a multi-hand classic blackjack game, in which you can play up to five hands at a time. In this version, the dealer stands on all 17s, and you can use double down, if you like. Additionally, NetEnt has a professional series, which offers a single-deck blackjack game. In this version, you have the option of an insurance bet, but be aware that the dealer hits on soft 17, which increases the house edge.
PlayTech has Blackjack Pro in many of its casinos. This is a single-deck game, which follows the traditional style of play. You'll only be dealt one hand, but once again, you need to be aware that the dealer hits on a soft 17. A nice feature of the PlayTech version is that you can change the color of the table and the music to create a suitable mood.
Microgaming also has a classic blackjack game. In this variant, the dealer must stand on all 17, and you'll have the option of insurance bets, as well as double downs. For something a bit different, you might like to try Microgaming Classic Blackjack Gold games. There are two versions available – single and multi-hand. What stands these games apart from the others are the subtle background noises. You'll have the relaxing sounds of the piano and the soft murmur of people talking in the background. It's a nice touch, which really helps to set the scene.

The Live Casino Experience

If you like to have a truly authentic atmosphere when you play, you should opt for the live casino games. The majority of live blackjack games are provided by Evolution Gaming, a company that dominates the live casino market. Evolution's live games are broadcast from real studios, with professionally-trained dealers, who will greet you as you join the table.
When it comes to blackjack, it's usually the classic version that's on offer in the live casinos. Each table has seven seats, although an unlimited number of players can make use of the 'bet behind' feature. You'll watch as the cards are shuffled and dealt, and the dealers will interact with you throughout the game. There are tables available for a variety of betting limits, and some VIP options as well, so you should be able to find something that suits you.