Sorting Through All the Games at an Online Casino
Choosing something you want to play is one of the best parts of gaming, especially as the top casinos provide you with such a wide array on their sites. The standard table games are available on all the sites, as well as a full range of slots. But what about when you feel like engaging in something a little bit different? Well, it's nice to know that there are a lot of quirkier alternatives on offer too. And some of them are truly unique!
The Leading Games Providers
Many of the online casinos use the same software providers, but there will still be differences in their selections. It's always good to browse through the products on the websites and see what else is listed, especially when you fancy something more unusual. The biggest and the best names in the industry continue to set the standard, and are constantly pushing the bar higher. As a result of this, you can be assured of games with stunning graphics and high-quality audio, and you'll get plenty of innovative features, as well.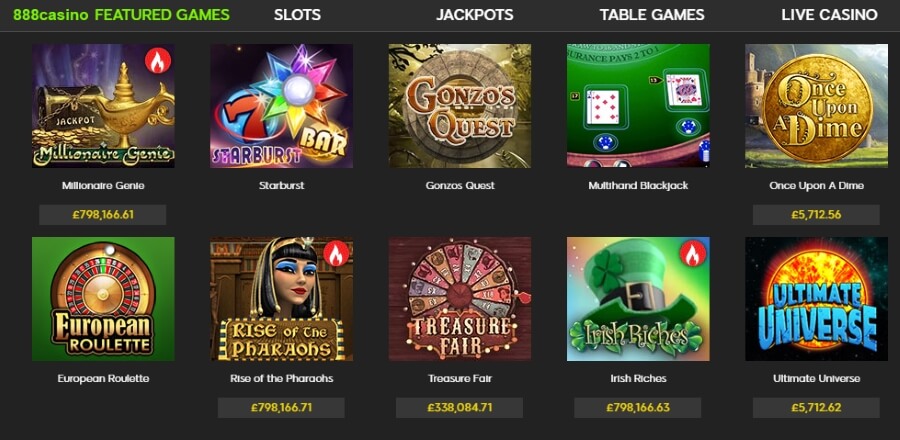 As you sort through the categories, you'll find some interesting variants among the titles.
Best Casinos by Game Selection
Microgaming's Quickfire
Microgaming is one of the most well-established providers on the scene, and has been part of the online casino industry since 1994. The award-winning company takes nothing for granted in terms of success, and continually strives to produce new and exciting products. These are all delivered to you via the powerful Quickfire – a browser-based platform that seamlessly streams hundreds of games straight to your computer for you to play.
Choose Your Side with Microgaming!
If you're looking for one of Microgaming's more offbeat versions, you should try Lost Vegas. From the start, you'll realize that this is far from the standard slot and such quality games are offered by the top online casinos only. Your first task is to pick which side you'll be playing on – the zombies or the survivors. If you decide to be a survivor, your free spins have a stash feature, and you'll be saving up the cash. As a zombie, however, you'll be infecting the reels during your free spins. There's also a blackout bonus round, which rewards you with random prizes.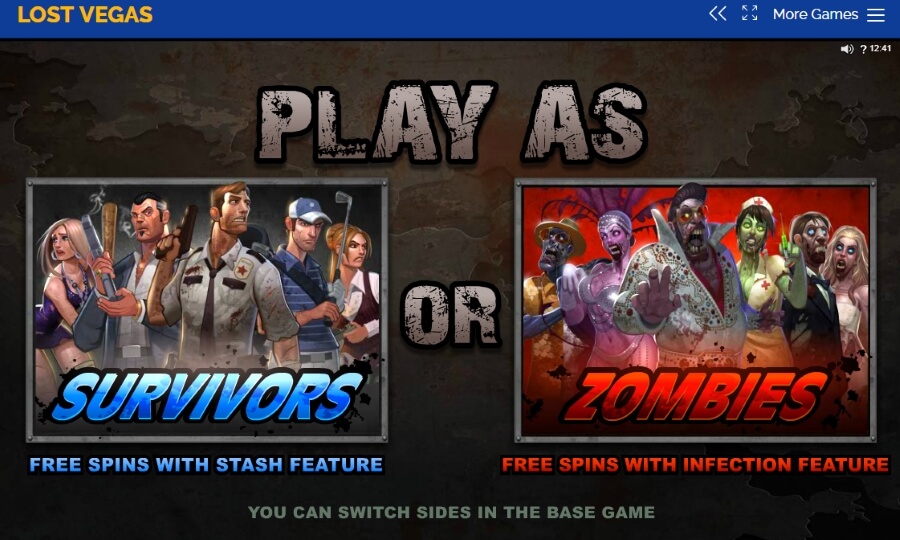 Are you a survivor or a zombie? You decide!
NetEnt's Iconic Characters
NetEnt provides multi-channel content for online players, as well as a diverse catalog which has something for everyone. You'll spot some top titles in the collection, and there are also a number of themed versions on offer. Additionally, the company has developed a whole range of home-grown characters who feature in many of the casino games. But the thing that really sets NetEnt apart is its attention to detail. Innovation is at the core of the company, and the company has won many industry awards for its creations.
Climbing Beanstalks with NetEnt
NetEnt has a series of fairy-tale legends, all of which have sublime graphics. Jack and the Beanstalk keeps to the traditional tale, following the boy's adventures as he tries to take the giant's treasures form the castle. The introductory video is captivating, throwing you straight into the story as Jack flees from the two-headed giant. This is basically a 5 reel, 3D slot, but it has the unusual feature of walking wilds – a scatter symbol that move to the left after every spin. If three treasure chests appear, you'll be rewarded with 10 free spins. You'll watch a short animation, which shows Jack climbing up the beanstalk to reach the castle, and your bonus round is played from here. It's fun and fast-moving, with plenty of unique features that sets it apart from the standard games.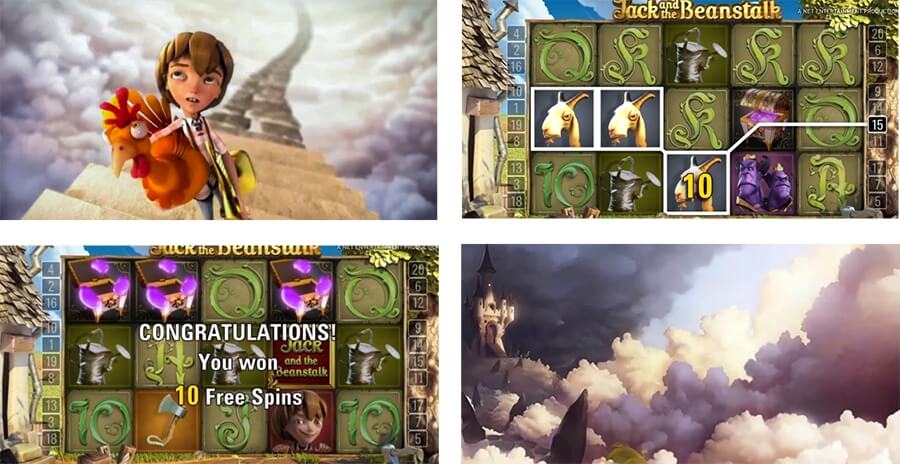 Help Jack in his quest to take the giant's treasure!
Playtech and the Omni-Channel
Playtech are the pioneers of Omni-channel gambling, and promise to provide you with the ultimate online experience. The company is heavily focused on offering flexible playing options, and so the whole suite of products can be accessed on a variety of platforms and devices. This is all done with a single account at the casino, even for payments. When it comes to games, you'll find a wide range of in-house branded ones listed, and a good selection of premium titles, too.

Casinos you need to try:
.
Playtech Takes You Around the World
For something a little different, try Playtech's Around the World. You can travel around a board, taking in some famous landmarks as you do. You'll stop at the Eiffel Tower in Paris, visit the Statue of Liberty in New York, see the Great Wall of China, and then end up at Big Ben in London. The objective is to bet higher or lower than the number in the compass wheel. At each city, you'll get the chance to continue or to cash out your winnings. You are given three strikes, but on your third incorrect guess, your game is over. There are some special events on the wheel, which allow you to win back one of your lives, or to move straight to the next level. It's a lot of fun to play, and a little more trickier than it first appears, too!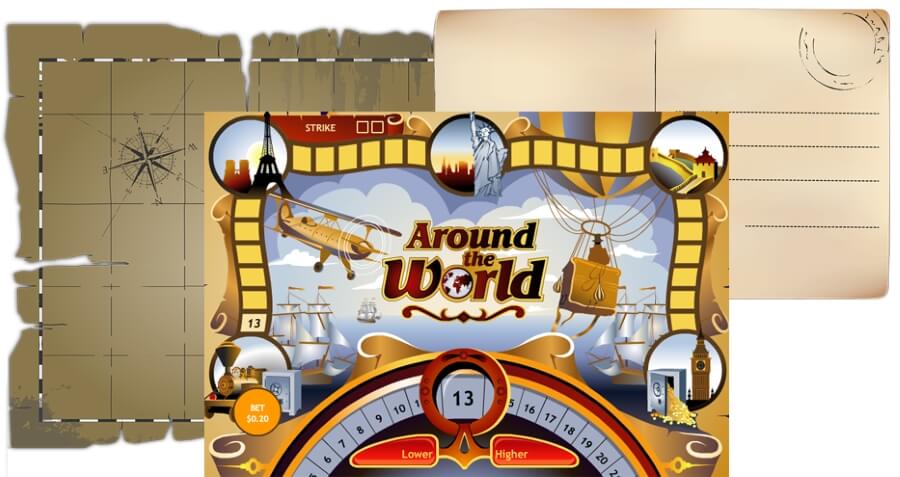 Go sightseeing with Playtech!
Standard Video Poker or Something Different?
The standard video poker games in an online casino are based around a 5 card draw, and the aim is to get the best hand possible. Once you have been dealt your cards, you have the option of keeping or discarding some or all of them, and receiving some new ones in return. Your hand is then played, and you will be paid out if you have won. In most versions, you'll have the paytable shown on the screen, which will show all the winning combinations. Usually, each round uses its own deck of cards, but there are some interesting variants in this category, which are definitely worth a second look.
The Double Up Option
There are a number of versions of video poker that offer you a side wager. In these games, if you end up with a winning hand, you'll be asked if you want to select Double, or if you would prefer just to collect your cash. When you choose to go for the Double, you'll be using all of your current balance for your next gamble. This begins by you being dealt another five cards. The first will be shown to you, but the remainder are left face down. You have to select which of the remaining cards you believe to be a lower value than the one on display. In certain variations, you'll be guessing the color of the card, and if you're right, you'll have the chance to double again.



In NetEnt's Deuces Wild, you have to guess the color of the cards.
Double Half with 2 Ways Royal
In 2 Ways Royal, Playtech offers a variation on this theme, by giving you the opportunity to Double Half. If you opt for this, you'll only be betting half your funds. It's a great way of placing an additional wager without risking all of your winnings, and as the RTP is 99.13% when you bet max, the odds are favorable, too. In this version, you'll be trying to guess whether the next card is higher or lower than the dealer's.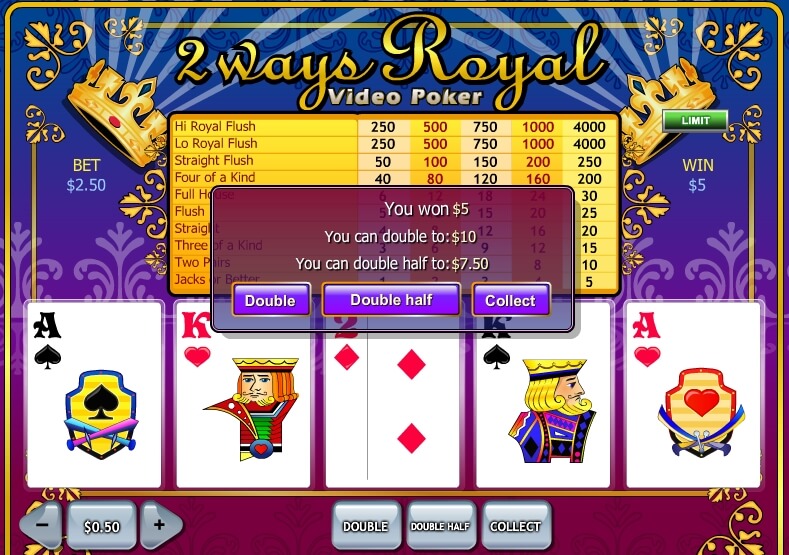 Take the Double Half option for a safer bet!
Multiple Play with Jacks or Better 52 Hand


Realtime Gaming's version differs from the regular game because you'll be playing with 52 lines of cards! Each of them is considered to be separate, so you have the chance of winning with several hands at once. You have the option to bet max, which is always advised if your funds allow. To begin, your 5 cards are dealt. These are the cards that you'll be using for all of your hands, so you need to pick them wisely. At this stage, you can hold one or more of them if you wish, or discard them. Once you've made your decision, you click on draw, and the cards that you didn't decide to keep are replaced with new ones. All of your 52 hands have now been completed, and any wins will be displayed on the paytable along the side.
Some of the Best Alternative Card Games
If you want a card game with a difference, you should see if your online casino has Play and Go's Beat Me. In this version, you and the dealer are both dealt one card. If yours has a higher value, you win at odds of 1:1. The rounds are played with 6 decks. There is an additional war bet, and if you opt for this, you'll each receive one more card. If you win, the payout is 1:1, and your initial wager counts as a push. You also have the option to surrender, in which case you'll forfeit half your stake.  You can put a side bet on a tie too, which pays out at 10:1.



For a bit of variation, try a game of Beat Me or Poker 3.
Another card game you might enjoy is Betsoft's Poker 3. This is a 3D version of Hold 'Em in which you face off against the dealer. At the start, you receive your two cards. You can then call for another card or fold. Every time you call, you must add a stake to the pot. After the last three cards have been drawn, your opponent can elect to throw in his hand. The highest hand wins. Although the rules are very straightforward, it's strangely mesmerizing to see the person you're playing against!

Top Online Casinos
.
888 Casino
5/5
Regulation: UKGC, GGC
Bonus: $1500
Min. Deposit: $10
Live Games: Yes
Mobile: Yes
Betfred
5/5
Regulation: UKGC, GGC
Bonus: £200
Min. Deposit: $10
Live Games: Yes
Mobile: Yes
Slotocash
5/5
Regulation: CGC
Bonus: 200%
Min. Deposit: $10
Live Games: No
Mobile: Yes
Do You Feel Like an Instant Win?
If you have a little free time and you fancy a quick online flutter, you might want to chance your luck on one of the specialty games. These tend to come in the form of a scratch card. The good thing about them is that the play is instant, and so are the rewards. You'll know as soon as you've revealed the symbols on the card whether or not you've won. The cards cover a variety of themes and have differences in the way that they're played, so you're bound to find one that appeals to you. You'll also come across bingo cards in these sections. These function in a similar way to the scratch cards, and are nothing to do with the separate bingo sites that many of the best online casinos offer.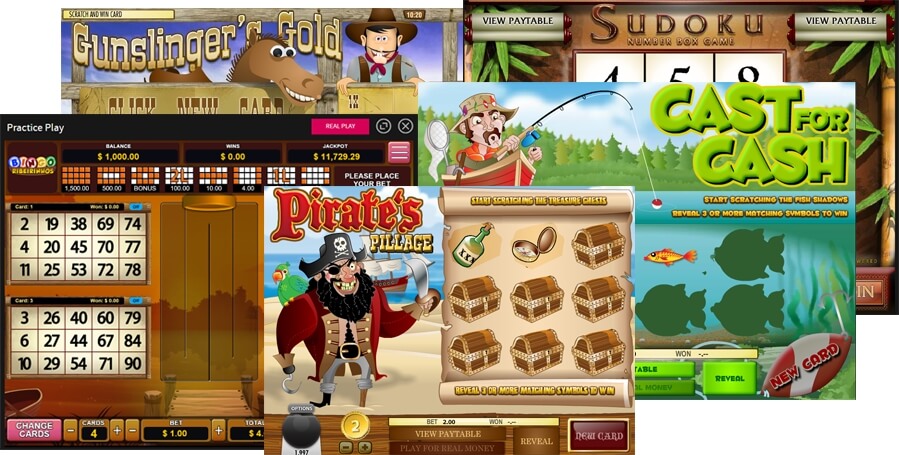 The scratch cards and the bingo games cover a wide variety of themes.
Finding Slots with Unique Reels
The slots developers have vivid imaginations, and are constantly looking for ways to spice up the features. This has led to some fantastic innovations, not only in regards to animations, but also in the mechanics of the games. The reels no longer simply spin, and the symbols don't just turn. Instead, they tumble, cascade, wander, dissolve, and even explode. In some variants, the special effects are completely spellbinding, and take the genre to a whole new level.
Fighting with Fire and Steel
Betsoft's latest online slots creation, Fire and Steel, has the age-old theme of good versus evil. As is often the case in fantasy games, two top warriors are fighting side by side in their attempt to defeat the dragons. This version has an innovative 3-4-5-4-3 layout, and the diamond format means that more symbols appear on the reels as they proceed towards the center. When the swordsman or the Shieldmaiden symbols are displayed at the same time, the war begins, and you'll receive 10 free spins. The paylines go both ways – right to left, and vice versa, which gives you lots of opportunities to win.
Experience Wandering Reels
Halloween is one of Microgaming's 5 reel online slots games, and it's rich with animated sequences and spin-off rounds. The general theme follows the classic film from 1978, and the atmospheric music recreates the sinister mood for the casino! There is the trick or treat wheel with a multiplier of up to 10x, and also a Boogeyman bonus round – both of which can be very lucrative in terms of adding more cash to your funds. But the best feature is the wandering reels, which move from side to side as you play. This movement determines which reels are being spun, as well as the lines that are being played. The reels shift randomly, so you never know what to expect, and this seems very much in keeping with the overall theme.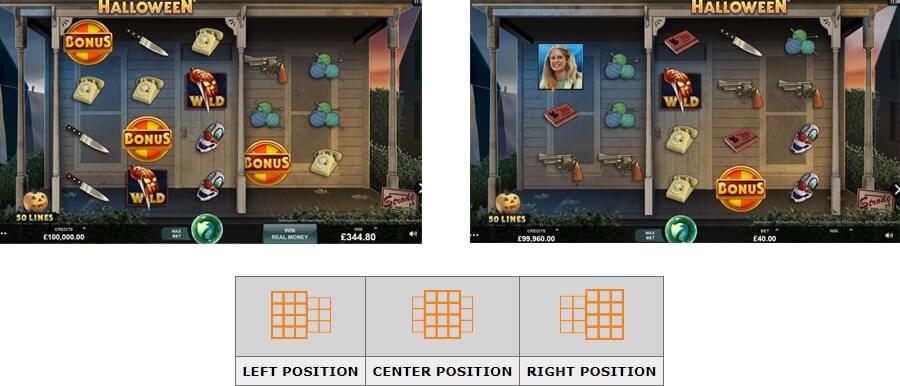 The wandering reels move from side to side, and their final position is determined at random.
Magical Cascading Reels
Play'n Go has developed Reactoonz, which is played on a 7×7 grid. The symbols on the grid fall down when the reels are spun, and new ones drop into place, creating a cascading effect. In order to win, 5 symbols or more need to be in a connected cluster.  Every time a winning combination is formed, the symbols are removed, and others take their places. This can trigger another set of winning connections, and the process continues until there are no more matches. All of the wins increase the amount that is held in the Quantum meter at the side of the game. When the meter is full, one of 5 special features is activated – for example, demolition will replace all the one-eyed symbols. The best part of all is the Gargantoon! This is a giant monster who drops 4-8 random wilds when the meter is charged, and so your chances of a win are greatly increased.



The cascading reels will fill up the meter and then Gargantoon joins your game!
The Novel Swirly Reels

Finn and the Swirly Spin is a 5 reel and 5 row video slot, but once again, NetEnt has excelled in producing a creative take on the standard game. The symbols are arranged in a spiral, and when you spin the reels, they move inwards towards the center. Whenever a matching row is formed, the winning symbols dissolve, and all the others shuffle round to fill in the gaps. At the start, the magic key is in the outermost position, and it moves a little closer to the center every time you win. Once it's there, you'll be rewarded with some free spins! There are a number of other special features too, such as Starfall Wilds and Magic Transformation, and each of these give your winnings an extra boost. The Swirly Spin means that the symbols move towards the center of the spiral:
The Games That Don't Fit into Any Categories
There are a few games that don't seem to fit neatly into any particular category. This doesn't mean that they aren't worth investigating, though. Part of their appeal is that they step outside the box and provide you with something a little more off the beaten track. So when you're feeling a tad weary of playing your old favorites, you should take a look at what else you might find interesting.
Leapin' Leprechauns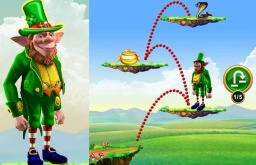 This SG Interactive title is a spin-off to the famous Rainbow Riches that you'll see in many of the online casinos, and even features the same lead character. The format alludes to the platform games of the past, where the hero had to vault over obstructions in his pathway, or bounce onto the next level. In this version, you'll be helping the leprechaun to leap onto the ledges. For every bet, he'll get five jumps, and on each step, he might find a prize or receive a power-up, but sometimes, the platform will be empty. At worst, he'll encounter an obstacle, which ends the round. The power-ups eradicate the obstacles for a number of leaps though, so if you've collected any of those, you can continue to guide the leprechaun through his quest:
Max Damage and the Alien Attack


Even the controls are like an arcade game!
If you are a fan of the old arcade games, you'll love this offering from Microgaming. It's pretty much a take on Space Invaders, and it follows the same format, too. In this version, you'll be helping Max Damage to fight off the alien ships. The play is a throwback to the past too, as you'll be using the keypad controls to move your ship from side to side, and your spacebar to shoot at the enemies. It doesn't cost you anything to fire, so you can shoot as often as you like. You can even use the auto fire option at no extra cost!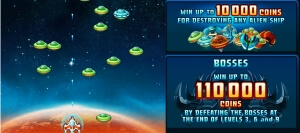 You start the game with six lives and you work your way through the nine levels. In the bonus rounds, you have to fight the bosses, and you'll get a huge cash reward if your succeed. There are boosters to collect along the way, and these give you extra lives or additional health. You can even upgrade your weapons to improve your firepower. It's all very retro, but it's a whole load of fun! Go retro and help Max Damage to save the world from the aliens:
So Which Categories of Games are the Favorites?
The answer to this question actually varies from region to region. Whenever surveys are taken, the slots and video poker tend to come out on top across the board. However, this chart shows that when you break it down a bit more, there are some significant differences in the preferences of players in the individual countries.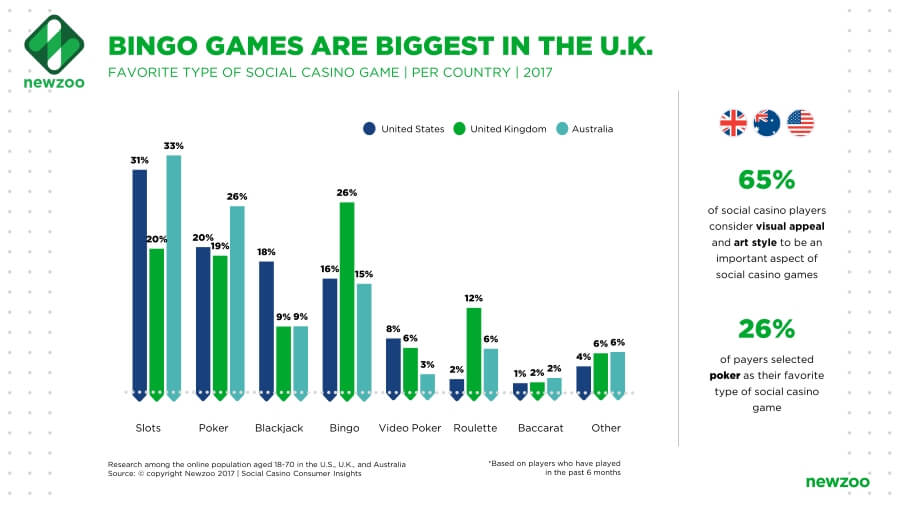 Whereas the US and the Australian players tend to go for the slots or for poker, it's bingo that is the most popular online game in the UK. If we compare these three locations in particular, you'll see that video poker lingers around the bottom in the popularity stakes in all of them. In fact, only 3% of Australians would ever opt to play it game online. Ultimately, we all have our own criteria that we seek to fulfill, and our favorites are the ones that satisfy those desires. On occasion though, it's good to try out something different, so if something new has caught your eye, why not give it a go!