Join Millions of Others and Play Online Casino Blackjack – But First Read our Helpful Guide
Blackjack is one of the most popular casino games in the world today. Millions play it every day both online and in land-based casinos. Sometimes we like to start our pages with a brief history. We don't do it for every game because we appreciate not everyone wants a history lesson. With blackjack, however, the tale is such a long and complex one that we felt it deserved some space. It's also a tale steeped in myth and folklore, making it all the more interesting.
Recommended Online Casinos
A brief history of blackjack
It's been difficult for us to tie down the exact moment when blackjack was first introduced to the public but we do know that the first reference to the game, or oe that was very similar, was in the 17th century. A famous Spanish author, Miguel de Cervantes penned a tale called Rinconete y Cortadillo. He was known for frequenting gambling tables and his tale featured a game called veintiuna. Not an exact replica of the game but one with a number of similarities. As you might expect, with a name that means '21' in Spanish, the aim of the game is to reach 21 without going over. The origin of blackjack is argued by many to be much further back than the 17th century. With some suggesting it was played back as far as the Ancient Egyptians. Another widely supported theory as to the origins of blackjack is that it originated in 18th century France. The game referred to is known as Vingt-Un. Betting rounds were there between each card dealt and the dealer was the only person allowed to double down. Essentially, however, the basic object of the game was the same as blackjack played today in casinos all over the world as well as online. It is know that the game was very popular because it's mentioned in a book written by Baxter Wray in 1891. The book is called Round Games with Cards. Baxter did suggest that Vingt Un had predecessors which meant it's still very difficult to pin down the origins of the game. Regardless of where it came from, there's no denying that it gained in popularity and spread around both Spain and France. Following on from the it migrated to casinos in the USA and gained the name twenty-one. A name that is still used today in every blackjack online casino. That's the history lesson over, so know we'll get on with learning more about the game, how to play it, the rules, different types, tips and tricks and the benefits of playing blackjack at the best blackjack online casino.
How to play blackjack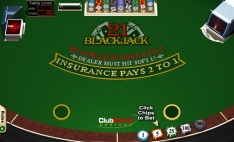 You'll be pleased to know that blackjack is really easy to play, with the goal to get as close to 21 without going over. The goal is also to have a higher hand than the dealer. If either go over 21 then it's called going bust. There you have it, the basic principle of the game, which makes it sound very simple. There are rules you'll need to know about before you play at the best blackjack casino online for real money. If there's an opportunity to play for free, then take it, because practice is never going to hurt. Before we look at the rules, we'll run through a typical game.
Players are dealt two cards face-up
The dealer deals himself two cards, one face up and one face down
You decide whether to hit, stand, split or double down
If your hand is 21 or anything else you stay in the game
When all players have made their decisions the dealer reveals the card that was dealt facedown
Hit means you're asking the dealer for another card. Stand means you're asking the dealer to move on to the next player because you don't want any more cards. If you decide to split you're turning your hand into two separate hands. Double down is much the same as hitting but you only receive one card without the option to take another. This explanation of the game includes a number of the basic rules. But there are more you need to learn before we go any further.

Top Online Casinos
.
888 Casino
5/5
Regulation: UKGC, GGC
Bonus: $1500
Min. Deposit: $10
Live Games: Yes
Mobile: Yes
Betfred
5/5
Regulation: UKGC, GGC
Bonus: £200
Min. Deposit: $10
Live Games: Yes
Mobile: Yes
Slotocash
5/5
Regulation: CGC
Bonus: 200%
Min. Deposit: $10
Live Games: No
Mobile: Yes
Additional rules when playing at a blackjack casino online
If the dealers hand is 17 or better they have to stand. The reason for this rule is that it standardizes dealer practice and allows players to enjoy a small advantage at the table. You'll find, however, that a number of blackjack online casinos allow some leeway with this rule. If the 17 includes an ace it's known as a soft ace and the dealer is allowed to treat it as a 1 and take another card. Insurance is something else that might be offered at some blackjack casinos online. Insurance bets are offered if the dealer holds an Ace in their hand. It involves players staking half their original bet, effectively betting the dealer will have blackjack.
Different types of blackjack
If you've decided you want to play at the best blackjack casino online, you might want to learn about the different games you'll be able to play there are a number of variations of the game, each with its own set of rules and possible strategies. We haven't got enough room to look at them all here, but we'll introduce you to the most common.
This is the most common and therefore the most popular played blackjack game and can be played with up to 8 decks. Both you and the dealer are dealt 2 cards, with one of the dealers cards face down. This is called the hole card. To win your hand has to total 21, but not more as this is a bust deal and a losing hand. To win your hand also has to be higher than the dealer's. If your hand is an Ace and a face value card it's called a Natural Blackjack.
This is similar to classic blackjack with the difference being that it allows players a chance to win an increasing jackpot. All the rules are the same, with just a few variations in when the cards can be split, hit, doubled or stand,
The particular type of blackjack differs in the way the cards are dealt and typically involves 2 decks. The dealers hole card isn't dealt until the player has decided how to play their cards.
This version of the game uses 8 decks. The dealer is allowed to take a look at the hole card and stand on a soft 17. Players can resplit up to 3 hands. Late surrender and insurance option is available.

Most visited Online Casinos
.
888 Casino offers Poker, Sports Betting and Casino Games
Website: 888casino.comCountry: GibraltarRegulation: UKGC, GGC

Up to $1500

PC

SmartPhone

Mac

Windows

Linux

Android

SSL
Slotocash is respectable casino that offer huge variety of slots
Website: slotocash.imCountry: CuracaoRegulation: CGC

Up to 200%

PC

SmartPhone

Mac

Windows

Linux

Android

SSL
This online casino blackjack game involves 6 or 8 deck cards. The 10 value cards are removed from the packs leaving only 48 cards with which to play the game. This serves to increase the house edge.again, the dealer is allowed to look at the hole card and wins if it's a blackjack or 21. It will result in a tie if the player also has a blackjack. Late surrender and insurance are allowed also. Surrendering after doubling down is also allowed in order to give the player a better chance of winning.
In this game the player is allowed to switch between two pairs of cards. Players are dealt two pairs of cards face up and they can improve the hands by switching them. Rather than the usual 32 payout, blackjack switch has an 11 payout.
This is a popular game played at a blackjack casino online and is typically an American hole card version of the game that allows the dealer to look at the hole card. If the dealer has a soft 17 they have to stand. It's played with 4 decks and doubling down is allowed after splitting the aces. Players are allowed to re-split cards up to 3 times.
This game adds a twist to the traditional way of playing and is very like Spanish 21 with all the 10s removed. The names are different with hit, stand and blackjack being called pontoon, twist and stick.
Bring the atmosphere if a live casino into your living room by playing live dealer blackjack online. No longer do you have to worry about making travel plans and booking a hotel. There are no queues or hordes of noisy people. Just you, a few other players and a real live dealer dealing the cards.
This game is played with a single deck and adheres to the rules of classic blackjack. The difference is in the payout structure. One difference is that a player's blackjack will always beat the dealers. It also pays out even money rather than the usual 32 payout. Now you probably realise you're actually spoilt for choice if you want to play at the best blackjack online casino. Not all of them are easy but with so many variations it's sure to add some excitement to the experience. With a wide betting range, different table layouts and a range of different rules it's going to make for a great time. We'll finish up by sharing a few tips and tricks. We've all spent time playing at the best online casino blackjack and want to give you some pointers to help you along the way, and hopefully to make your time a little more profitable.
Tips and tricks for playing the best blackjack online casino games
Our first tip is pretty much standard, whatever type of casino game you're playing. Always read and understand the rules. Never sit down at a blackjack table, virtual or real, without being absolutely certain what you're allowed to do and how the game works. We've already touched on the basics, but there are more in depth rules you'll need to follow. Sitting down without understanding the rules and you might as well flush your money down the toilet. Blackjack isn't a game of chance. It's actually a game that requires a certain level of skill. If you want to win at least some of the time, and not lose all your money. Learning the card values is also an important tip. Most are pretty obvious but there are some that could trip you up, especially in the beginning. Picture cards all have the same value, 10. It's the value of the Ace that can sometimes be confusing. They can be worth either 11 or 1, depending on which will be most beneficial according to the other cards in your hand.

Casinos you need to try:
.